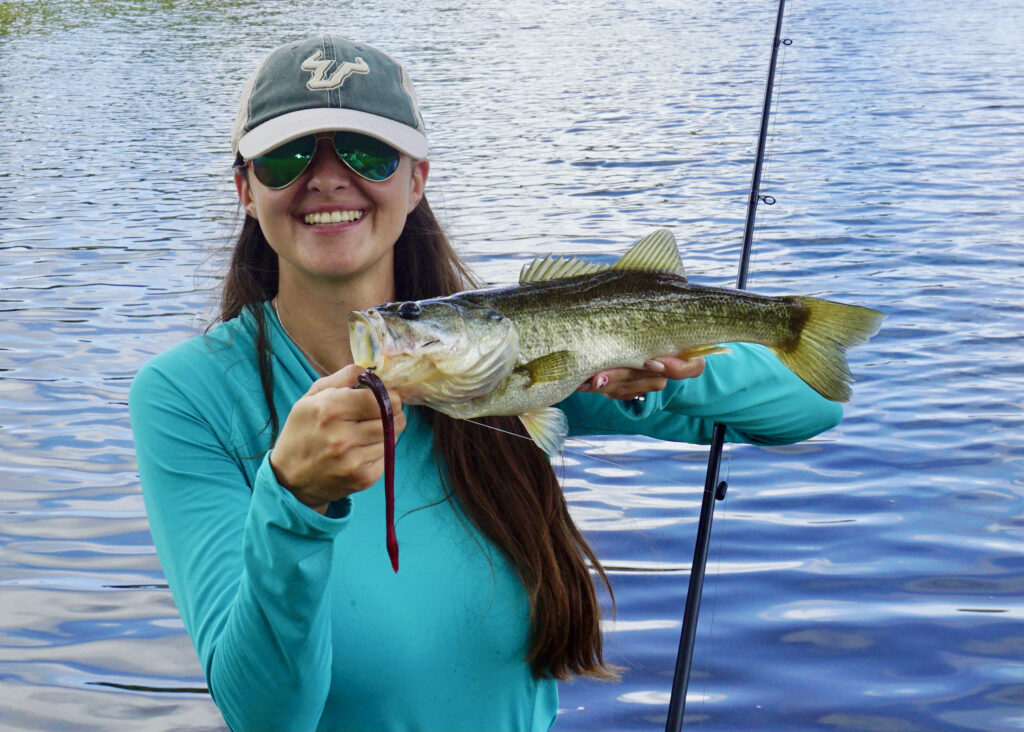 Guest Post By GABRIELLA MAGRATH
Waking up at 4 AM, going through a gear checklist, and driving an hour to a boat ramp in complete darkness might seem like a normal fishing routine; but this was no normal day. This was the day I would participate in my first bass fishing tournament as a non-boater with the North Tampa Bass Club. Unfazed by the chill air, I could feel the excitement pulsing through my veins as I parked my car and walked up to the concrete ramp, shook hands with my assigned boater and loaded my gear in the Legend V20 before heading out for a full day of fishing.
How it Went
We arrived at our first spot just after daybreak, starting in open water near the edge of a canal within casting distance to a field of lily pads.
Of the three rods in my arsenal, my starting player was a medium light spinning outfit equipped with a weightless 5" Senko on a red, 4/0 Daiichi worm hook tied to about 3 ft of 15lb fluorocarbon leader. Having had some success with this rig while fishing similar topography, I made a few casts near the edge of the thick lily pads and hoped for the best. Within the first half hour I landed the first fish of the day —  a largemouth bass that was just over 12-inches, nothing to write home about, but a decent start.
I fished my heart out all day. While a few nice bass were lost, that first fish ended up being the only fish I landed. However, this tournament is operated with angler and co-angler as a team, so even though I didn't catch any more fish, my teammate and I ended up coming in 6th place out of 8 total boats.
Defining Success
Despite that single fish, my tournament experience was major success as far as I was concerned. My success didn't come from the number or weight of the bass brought to the scales. While I'd love to tell you some story of a monster bass that grabbed my fluke within the last minutes of the tournament, that's not how the day played out. The experience was successful because I stayed open to receiving advice and was prepared both physically and mentally. I kept a positive attitude throughout the day, even though the bites were few. The thought of giving up never crossed my mind, so I'm going to share my takeaways following this first-time tournament experience.
Mental and Physical Preparedness
First, it's important to mentally prepare for a full day out on the water. Some things that alleviated my anxiety and helped me mentally prepare for this fishing tournament were meditation, making checklists so I didn't forget anything, and talking to people who could give me solid fishing advice.
The fear of unpreparedness sent me shopping the week before, but the truth is I used only about half of what was bought. You probably don't need as much gear and tackle as you think you need. A three-rod set up was perfect for me. I wouldn't recommend bringing more than five or six rods as a first timer.
The back of the boat doesn't have as much room as the front. While the boater might have 14 rods, you probably won't be comfortable with that many in a confined space. Don't forget the other important necessities like snacks, sunscreen, buff, sunglasses, and water. It's no fun being hungry, thirsty, or getting a sunburn.
Trying New Things
If you are fishing on a team or the other angler is just generous with knowledge, you might have the opportunity to learn something from them. While I was glad to learn how to "flip" into heavy cover and "punch" mats, all but one of my hookups were on rigs that I knew how to use well. Stick to your confidence presentations and save experimenting for pre-fishing or practice if you want to improve your odds of success.
Leader or No Leader?
One major learning experience during this tournament was when my leader snapped right below the braid to leader double uni knot. This could have been a combination of the weight of my leader line being too light and my drag being set too tight. No matter what you're targeting, finding a balance between the drag setting and line weight is crucial. Many bass tournament anglers tie straight to braid and don't use a monofilament or fluorocarbon leader if they are flipping and pitching around heavy vegetation when the fish aren't line shy.
Pay Attention to Details
Throughout the day, I lost fish for a variety of reasons, I hate to admit it, but a few of them were lost in the details. One was lost because I forgot to check the drag on one of my reels and I couldn't get a good hookset. Understandably, I was disappointed about my rookie mistake, but didn't let it affect my mood. The more you fish the less things like that happen.
Shut Up and Fish
It's hard to make sure there's zero slack in your line and talk at the same time. The boater I was paired with had fished in some larger circuits and I was super curious about them. We had some insightful conversations about fishing throughout the day but in reflection, spending more time in full focus mode could have improved my results.
In conclusion, if you're getting ready to fish your first bass tournament, put the time in to prepare, but rely on your existing strengths. Experiment during practice or while pre-fishing, while sticking to your confidence techniques or baits during the actual tournament. Stay focused, don't overthink your strategies, and don't beat yourself up if you make a mistake. Most importantly, stay positive and optimistic. In other words, keep believing that a big bite will happen just around the next point, because it eventually will.