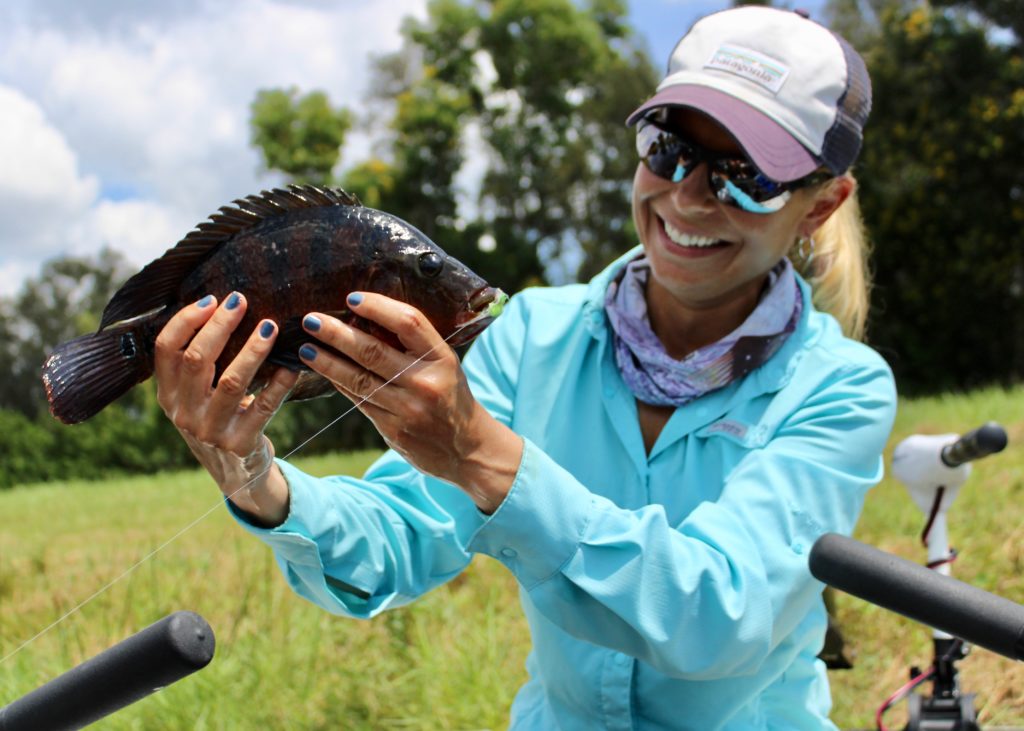 In the Florida fishing community, freshwater exotics are often viewed as the scrappy kids from the other side of the tracks. They tend to be overlooked when considered alongside of our many saltwater species. Or, snubbed by those who would much rather pursue our state's official freshwater game fish, the Florida-strain largemouth bass. However, if you haven't had the chance to target Mayan cichlids or oscars on a fly rod, you may be missing out.
In my humble opinion, Mayan cichlids and oscars are two of the sportiest freshwater exotic species that you can chase on fly in South Florida. They also present fantastic opportunities for beginning fly anglers seeking to hone their skills through high catch rates. In addition, both species will readily hit flies or artificial lures, so they are the ideal quarry for those who demand a taste of success early on.
Want to know more about the fly fishing gear you need, which types of flies to use, and where to go? Check out these freshwater tips on fly fishing for Mayan cichlids and oscars in South Florida.
Mayan Cichlid
Often referred to as the "atomic sunfish" because of its explosive and aggressive nature, the Mayan cichlid thrives in a variety of habitats. Identifying features include a broken lateral line, 6-8 vertical bars (faint or dark), and black spot with turquoise ring on the tail. This spot is referred to as an ocellus or 'eye spot' which serves to confuse predators.
While the species was first recorded in Florida Bay in 1983, they are now well established and abundant as far north as Lake Okeechobee. Mayans are known for being one of the hardiest of the freshwater exotics since they can withstand higher salinity water and water temperatures that drop down into the 50's.
The best time to pursue the feisty Mayan cichlid is just prior to spawning, during the months of April, May, and June. Although, you'll quickly learn that it's not difficult to find and catch this species throughout the remainder of the year.
Fly Fishing Tips For Mayan Cichlids
What to use: Use a 4 or 5 weight fly rod rigged with a floating line and 6 to 8-pound tippet. The best flies to use are minnow patterns (such as Steve Gibson's Myakka Minnow), yellow and bright pink popping bugs, or Joe Mahler's Strawboss in chartreuse and orange.
Where to go: You can find Mayan cichlids in freshwater or brackish canal systems throughout South Florida, usually near submerged vegetation. Visit John Yarborough Linear Park in Fort Myers if you want to try fly fishing for this species from the shoreline.
Big Catch Program: The Mayan cichlid is an eligible species for the FWC Big Catch program with the minimum entry for adults being 1 pound or 11-inches in length while the youth category is .75-lbs or 8-inches in length.
Now that you know where to find and how to target Mayan cichlids on fly, let's move onto the nonnative oscar.
Oscar
The oscar is another member of the cichlid family that can offers an incredibly fun fight on a lightweight fly rod. While oscars aren't very big (2 pounds is considered large), they are very aggressive given their small size. Young oscar can be identified by wavy white or orange bars on black head, body, and fins. Adults are olive blue-green in color with large black bars or blotches. You'll notice a black ocellus or eye spot circled by a red ring at the base of upper caudal fin.
This species native range includes the Orinoco, La Plata, and Amazon River basins in South America, but was introduced to the freshwater canal systems of South Florida as the result of an aquaculture release in the late 1950's.
Fly Fishing Tips For Oscars
What to use: 4 or 5 weight fly rod, floating line, 7 1/2 to 8-foot leader, and #10 popping bugs, Woolly Buggers, or Steve Gibson's Myakka Minnow.
Where to go: Pay a visit to Everglades Water Conservation Areas 1, 2, 3, access via Everglades Holiday Park near Fort Lauderdale. Winter is the time to go because there are low water levels in the marshes. Receding water levels in the marsh areas push a majority of these fish into the associated canal systems. Catch rates of 50 to 100 oscar per day during this time of year is not uncommon.
Big Catch Program: Oscars are an eligible species for the FWC Big Catch program with the minimum entry for adults being 1.25-lbs or 11-inches in length while the youth category is .75-lbs or 8-inches in length.
These two species continue to be consistent and willing biters, even when summer Florida temperatures climb up into the high 90's. There are no size limits or bag limits for Mayan cichlids or oscars according to the Florida freshwater fishing regulations since both non-native to Florida. Just don't forget to renew or purchase your freshwater fishing license heading off to the "other side of the tracks" to catch a Mayan cichlid or an oscar.