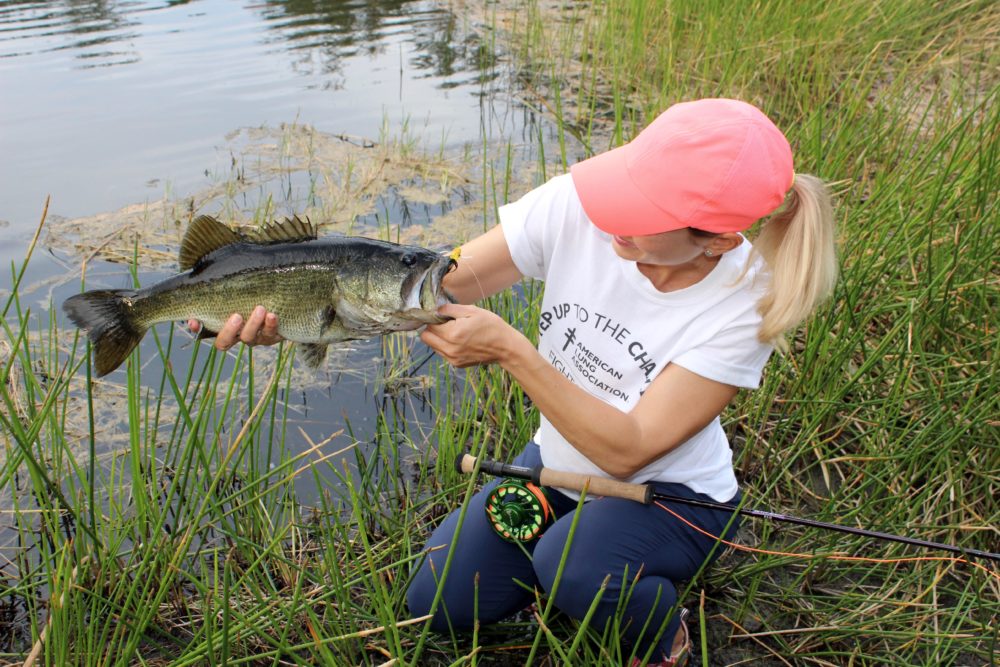 If you haven't tried fly fishing for largemouth bass, you're missing out on a freshwater experience that just might convert you into a lifetime fan of the long rod. Contrary to popular belief, fly fishing isn't only reserved for wader-clad trout aficionados who regularly navigate through the clear mountain streams of Wyoming or Montana. With a basic freshwater fly rod set up and a couple of hours spent practicing your stripping retrieves, you can land largemouth bass on fly while fishing your neighborhood pond or at a nearby lake.
Fly Fishing Gear
When it comes to freshwater fly fishing gear, there is absolutely no need to be intimidated by price or terminology. You can find a fly rod and reel outfit for a lot less than you might think. In fact, there are freshwater outfits that start around $150. These outfits often include a rod, reel, floating fly line, leader, backing, and a rod/reel carry case — everything you need with the exception of a few flies.
As with any other hobby, it only makes sense to start out with an inexpensive set up. Once you get hooked on fly fishing for largemouth bass, and have the confidence that you'll stick with it, you can always upgrade.
You will probably come across fly rods and reels of different weights, but you can start out with a 7-weight fly rod that is 9-feet long. This type of rod set up generally comes in four pieces. All you have to do is fit the reel into the seat, put the rod pieces together, and tie on your fly.
Flies That Work
Now for the fun part. Which flies should you use? Again, keep it simple. Use three or four tried and true fly patterns to start with. You can always add more patterns to your fly box later. There are many flies that will work depending on the conditions, but too many options can cause you to over-think your selection and strategy. The fly patterns listed below are perfect for beginners to start with.
Popping Bug
When you notice that the bass are hitting on the surface of the water during the early morning or evening hours, a topwater popping bug is the fly to use. Point your rod tip directly at your popping bug, and work the fly using a series of short strips. Or, you can pause for a few seconds after each strip
Clouser Minnow
The Clouser Minnow in chartreuse and white is one of the most versatile subsurface fly patterns. When the bass are feeding deeper in the water column, or when fishing deeper waters, you can fish a Clouser using a series of steady strips on the retrieve. Bob Clouser actually invented the pattern for smallmouth bass, but it works just as well when targeting largemouth.
Woolly Bugger
Not only is the Woolly Bugger one of the easiest flies to tie, it's a consistent performing fly for many species, bass included. This is a subsurface pattern that can resemble a leech or a crayfish, depending on the color of the fly and the technique used. You can dead drift the Woolly Bugger in current or strip it back with varying degrees of speed until you figure out what the fish will respond to.
Where To Go
Now that you know about the gear and flies to use when fly fishing for largemouth bass, all you have to do is find a local freshwater fishing spot. Since largemouth bass are one of the most abundant and popular game fish in North America, finding a good fishing spot will be easy. You can try rivers, reservoirs, natural lakes, ditches, and canals. If you are looking for some of the best bass fishing waters in the state of Florida, you can check the Florida Fish and Wildlife Conservation Commission's list of Top Spots for Black Bass.