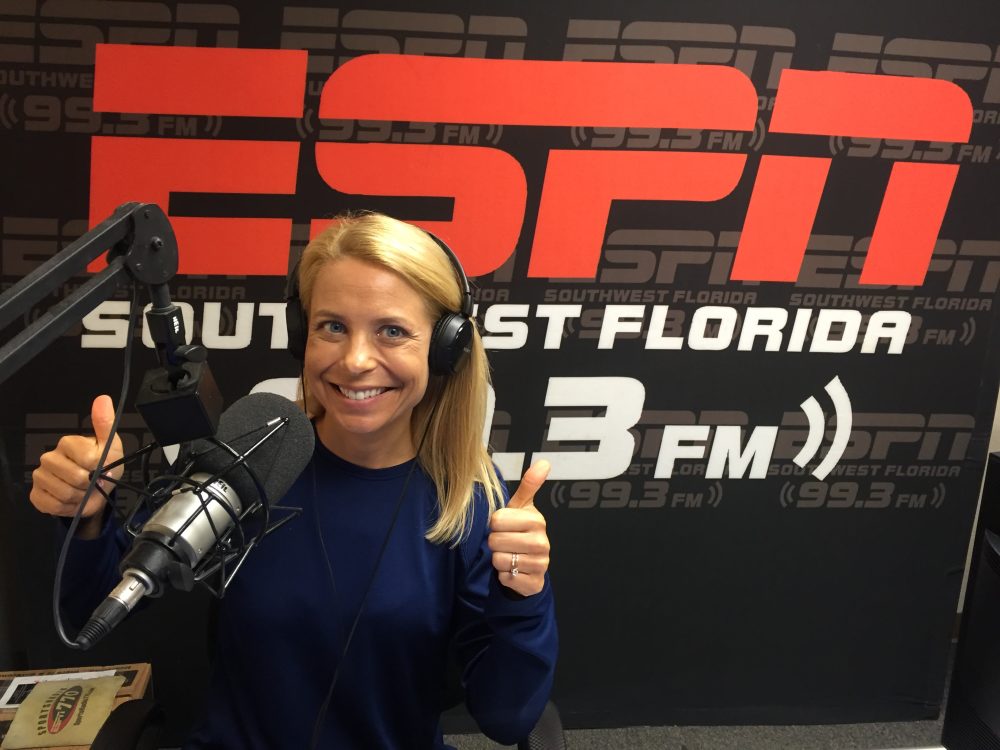 Want to learn more about fishing? Then find a good fishing talk radio show and tune in as often as you can. Have to admit, I didn't always follow my own advice. This was simply because the majority of fishing shows seemed to cover the same topics every week. I'd listen for the first ten minutes, and then think to myself, "Please don't tell me that they are going to talk about offshore jigging for grouper AGAIN!" Plus, if I wasn't out fishing on Saturday mornings, I made a habit of scouring the internet for online fishing articles that contained information about new techniques. However, things have changed in my world.
More women are taking up the sport of fishing than ever before. In fact, female anglers now make up over 47% of first-time fishing participants. This means that we can bring a refreshing new perspective to the airwaves. When a friend told me to listen to Reel Talk Radio 99.3 in Southwest Florida with Captain Rob Modys, and suggested that I contact him about coming on the show, I wasn't sure how I'd be received. Of course, after I had the chance to tune in, I realized that it wasn't just about the "good old boys." Anyone can learn about tides, species, regulations, and pick up useful tips to apply on upcoming fishing trips.
You can get helpful fishing tips whether you are a shore-based angler or a boater. Not all fishing talk shows cater exclusively to the boating crowd, some realize that there are plenty of people who fish on foot and are eager for information about the best baits to use when pier fishing or when fishing from the bank at a local freshwater lake.
Listeners are often encouraged to take kids fishing. Our next generation of anglers needs to have mentors that can show them the value in conservation and time spent outdoors in the fresh air. It's awesome to hear hosts spreading the word about kids fishing derbies or tournaments and encouraging more adult anglers to take kids fishing.
You usually get a good dose of fishing humor. Someone will always share a fishing tale that makes you laugh. When listening to Reel Talk Radio 99.3 in Southwest Florida, it might be a story about Barry's "Magic Fishing Machine" or one of Dave Westra's "Gems of Knowledge." No matter what, you can always count on a few good chuckles.
You can get updated on any proposed or recently passed regulation changes. Although you need to check the fishing regulations for changes and updates on a regular basis anyway, it is helpful to know when changes are being proposed or are a topic of discussion.
When captains and avid anglers call in with local fishing reports, you can become informed about which species are actively biting in which areas. We all know better than to expect the disclosure of specific locations, but you can still get a good feel for which areas are hot and which are not.
You begin to see that the fishing community is a tight-knit group of people who will bend over backwards to help each other out. I've witnessed this not only by listening to fishing talk radio shows, but by attending several fishing-related charity and fundraising events as well.
You learn about upcoming events on the community fishing calendar and can plan to participate in a local tournament or attend a fishing seminar. Reel Talk Radio, for example, always mentions upcoming fishing seminars at our local Bass Pro Shops store and runs through a list of local tournaments.
You can get inspired by fellow anglers that call in or visit the studio. If you hear about other women competing in tournaments, acting as fishing mentors, and speaking at seminars, you're more likely to get inspired and realize that you can get out there and do those same things yourself. And, ladies, we want to hear from you, so call into the show!
You can learn more about fly fishing. Fly fishing can seem as if it's on a whole different (and somewhat intimidating) level. In my opinion, there's a real value in covering fly fishing topics to help people understand that fly fishing isn't only about catching trout in a mountain stream, but that it can easily be done in your backyard while targeting bluegill or from a beautiful Sanibel Island beach for snook.
If you want to learn more about fishing in your local area or while visiting someplace new, you can do an online search for a fishing radio show in your area or listen to Reel Talk Radio 99.3 FM on your smartphone from anywhere (7 AM to 10 AM) using the ESPN Radio App. Already have a favorite fishing radio show in your city? Comment on the Shefishes2 Facebook Page and let your fellow anglers know when and where to tune in.