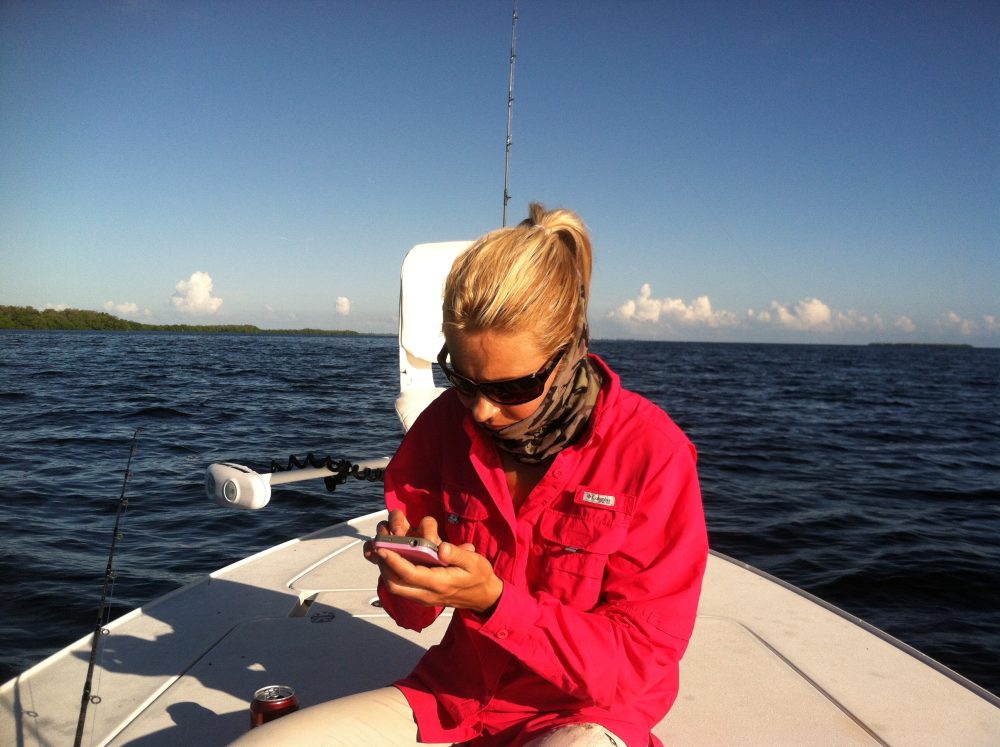 There was a time when I felt that all mobile devices should be stashed or stowed before heading off on a fishing trip. After all, isn't the ability to unplug from the digital world one of the best things about fishing? I used to believe so. Although, a few of the latest fishing apps may have me thinking otherwise.
From a reference standpoint, it certainly helps to have knot tying guidance, regulations, and trophy catch data accessible on your trips. If you have the intention of pursuing a record fish, for example, you'll never know if your catch will even qualify unless you know where the current record stands. As they pertain to safety, lightning alert apps and weather apps can give you an advance heads up to any potentially dangerous weather in the area — that's ALWAYS a good thing.
Fishing Apps Worth Downloading
Animated Fishing Knots. This fishing app costs just .99 to download, and is compatible with iPhone, iPod touch, and iPad. Requires iOS 3.2 or later. Voted "TOP 10 BOATING APP FOR THE IPHONE" by PropTalk Magazine, May 2010 issue. If you are like me, you'll find that animation is a good way to learn each of the 31 knots included because the Animated Fishing Knots app allows you to pause and play with video controls.
IGFA Mobile. $8.99 to download, iPhone and iPad compatible. Search IGFA world records, plan fishing adventures, identify species, log your catches, find the nearest IGFA Official Weigh Station or IGFA Captain, and track slam club progress using the IGFA Mobile app. For anglers that are on a specific mission, there is even a "quest list" that allows you to track your progress towards your next Weight Club or Slam Club.
TrophyCatch Florida. If your goal is to land a lunker Florida bass of 8-pounds or more, you might want to consider downloading the free TrophyCatch app for your Android or Apple(iOS) smartphones. These apps will enable you to have access to the TrophyCatch rules and other information, even when you're not connected to the internet. However, final TrophyCatch submission will require you to be able to access the internet.
Navionics Boating. Download the Navionics boating app for free, and then shop In-App for the chart coverage you want anywhere in the world. This allows you to get the same marine and lakes detail that can be found on a GPS chartplotter. The app offers versatile features including track recording, up-to-date tide and current data, wind forecasts, access to shared Community Edits, the largest searchable database of marine POI's available, social media sharing, backup of valuable markers, routes, tracks, photos and videos, optional map overlays, syncing of data across multiple devices, and geo-referenced articles. The app is available on iTunes and Google Play for iPhone, iPad, Android Handset, and Tablet.
Fish Rules. Have a hard time remembering changes in the saltwater fishing regulations? The Fish Rules app simplifies saltwater, fishing regulations by compiling them into an easy to understand format. At a glance, know if a fish is in season, how many you can keep, how big they have to be and more. One of the best parts? The Fish Rules app is free to download.
Tides Near Me. Free to download, the Tides Near Me app focuses on nearby tide stations and current tidal conditions. Quickly learn the time of the last and next tide and current, as well as when the sun and moon will rise or set. Fully automated tide tables, charts, and predictions. There are no ongoing payments required for obtaining up-to-date tidal information on over 5,500 tidal stations in the US, UK, Ireland, Australia, New Zealand, and India. The app is available on iTunes and Google Play.
Fishidy. Sign up on the website or download the app for free to access local fishing reports, log catches and spots on interactive fishing maps, and connect with local anglers. You can upgrade to the premium version for exclusive fishing tips and mapping layers provided by a premier provider of fishing maps. Available on iTunes and Google Play.
MyRadar. MyRadar is a free, easy-to-use, no-frills app that displays animated weather radar around your current location. If you are out on the water, it allows you to quickly see what weather is coming your way. The map has the standard pinch/zoom capability which allows you to smoothly zoom and pan around the United States and see what the weather is like anywhere. In addition to the free features of the app, a few additional upgrades are available; see severe storm warnings for your area, as provided by the National Weather Service, and real-time hurricane tracking – good to have if you live in Florida during hurricane season. Available on iTunes and Google Play.
iSolunar. If you are a bass fishing fanatic, this $4.99 app might become your favorite. iSolunar uses data about the movements of the sun, moon and the tides to predict time periods when animals may be most active feeding or moving. The app provides users with Solunar tables for given locations, complete with expected major and minor activity periods, day ratings, moon phase, moonrise and moonset, sunrise and sunset times, with day, week, and month tables, as well as current and five-day weather forecasts. Additional in-app purchases unlock further features like tide data, custom location mapping and a range finder. Available on iTunes for iOS.
Finygo. This free app comes from a company that is based across the pond, but has relevance no matter where you live. Since one of the best things about fishing is the sense of achievement that it brings, Finygo allows you to track your improvements. Monitor your on-going performance at your favorite fishing spots, track your best days, quantities caught and weights. Available on iTunes and Google Play.
Now that you know about this list of fishing apps that can help you catch fish and stay informed, you can choose the ones that make the most sense for the type of fishing you do. Do you have a good fishing story that involves that use of a particular type of technology or app? Head over to the Shefishes2 Facebook page and share it with me there.