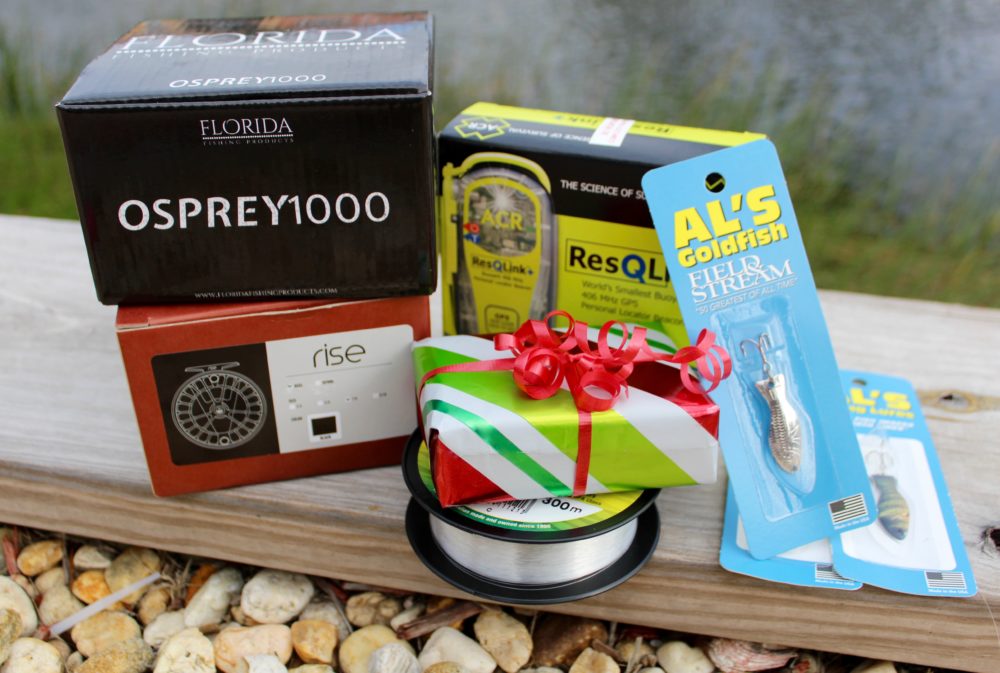 Since the Shefishes2 gift list has become an annual thing in either blog or vlog form, I won't let you down this year. In other words, I just can't have you scrambling around trying to find last-minute holiday fishing gifts for your family members and friends that are likely go back to the store after Christmas. Whether your Secret Santa is into freshwater fishing, saltwater fishing, fly fishing, or outdoor safety; these gift ideas will have you covered.
Florida Fishing Products Osprey 1000 Fishing Reel. Know someone who is fond of freshwater finesse fishing, but who also wants a reel that can transition over to salty light tackle pursuits of trout or redfish? The Osprey 1000 has 22-pounds of drag power (yep, you read that right), a 5.2:1 gear ratio, and weighs in at a mere 7.4-ounces. Florida Fishing Products also supports conservation efforts by donating a portion of sales to help protect our waterways and ecosystems. $149.99.
Clenziol Marine & Tackle 2-ounce Pump Sprayer. This is the perfect stocking stuffer or grab bag gift idea for any angler. Clenzoil is a one-step cleaner, lubricant, and rust preventative for fishing reels, tools, and other equipment exposed to marine environments. $6.99.
Blakemore's Swim-N-Runner. Blakemore's Swim-N-Runner has quickly become one of my favorite spinning-gear search baits for bass, but don't be afraid to break it out of your tackle box when targeting redfish either. The combination of flash, vibration, and action rarely fails to elicit strikes. $5.99.
Al's Original Goldfish Lure. 3/16-ounce with #8 Hook. For over 60 years the Goldfish has been helping anglers catch freshwater fish. While this lure is traditionally known for catching trout, don't underestimate its ability to attract largemouth bass and panfish too. Made with the highest quality marine grade brass, 22 karat gold, worth split rings and VMC hooks. $4.49.
Montauk Tackle Women's Boat Shorts. Constructed with Montauk's signature smart fabric featuring 50+UPF sun protection, moisture wicking, stain-release and antimicrobial technologies. Made in the USA with a clean classic design. $79.
ResQLink™ PLB Personal Locator Beacon. This GPS-enabled rescue beacon is the ideal gift for any angler or boater, particularly those who venture off on solo missions or fish in remote locations. Help your fishing friends and family "prep like a pro" prior to a day on the water. Should you run into an unexpected situation, the ResQLink PLB will relay your location to a network of search and rescue satellites. $299.95.
Reilly Rod Crafters Debbie Hanson Series Fly Rod. With salt-ready hardware, titanium stripping guides, and a medium-fast progressive taper which offers even distribution of energy throughout the blank; this versatile 4-piece rod can take fly anglers from bass in a backyard pond to redfish in the backcountry. $289.99.
Redington Rise III 7/8 Fly Reel. 4-inch reel diameter with large arbor and a compact carbon fiber drag system. Lightweight design (5.5-ounces), twin molded soft-touch handles, and oversized drag knob helps this reel perform in the hands of any angler. Available in black, olive, silver, and amber. $219.99.
Guided Fishing Trip Gift Certificate. You can give the gift of a fishing experience by calling your favorite fishing guide or charter captain and asking if gift certificates are available for purchase. Double check to be sure that the guide is licensed and insured. Most offer gift certificates for half-day and full-day trips. Price varies.
Platypus Pre-Test Monofilament Fishing Line. Platypus Pre-Test is available in 300m, 500m or 1000m spools in either high visibility yellow or low visibility clear. Price varies based on line weight.
Not enough suggestions for you? Take a look back at a previous holiday fishing gift list to get a few more practical ideas.
Disclaimer: This is not a paid or sponsored gear post. Since I have been a full-time angler and writer since 2011, I have purchased a lot of gear that has held up to frequent use. While some items have been provided to me at no cost to test and review, each item I feature on this blog is hand-selected based on my experience and I wouldn't recommend anything that I personally have not used.
The exception is the Reilly Rod Crafters Debbie Hanson Series True 7 Fly Rod, which constitutes an affiliate relationship (meaning that if you click through on the Reilly Rod Crafters website and purchase a rod (using code DH57 to get 10% off), you get the discount and I get a few pennies too. Visiting this site and sharing these posts is a great way to help keep me creating new content and empowering more women to fish… so thank you!