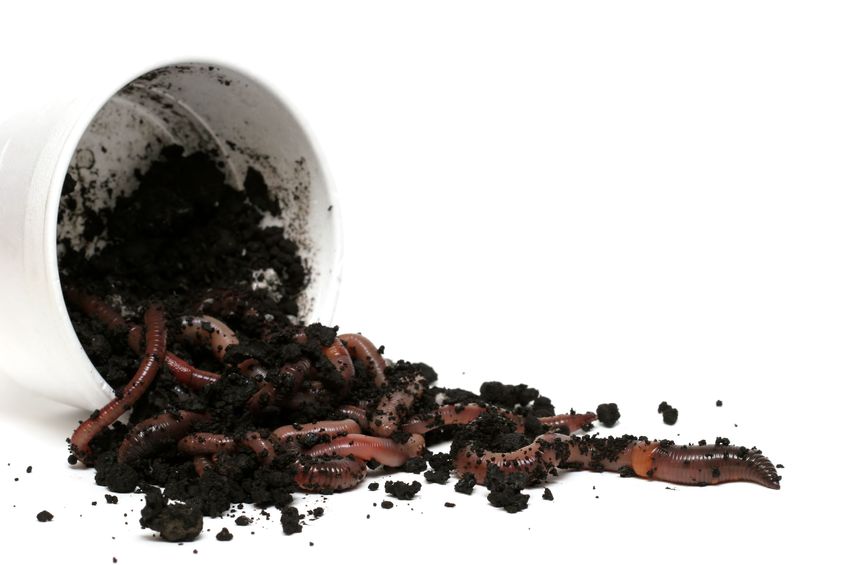 When freshwater fishing, I prefer to use artificial baits whenever possible because artificials add an element of challenge to each fishing experience. Studies have also shown that fish swallow hooks less frequently when caught on artificial baits or lures. However, there are times when it doesn't matter which technique or lure you try, the fish just don't seem interested in artificial baits.
If the freshwater bite is really slow or if you are fishing with kids and need steady action to keep them engaged, you may need to make the switch to live bait. As a general rule of thumb, always use baits that occur naturally in the area where you plan to fish. For example, live golden shiners are a main source of prey for largemouth bass on Lake Okeechobee, so using live golden shiners while fishing this waterway will be your best live bait option. Do some bait research when fishing a new area!
Earthworms
Earthworms are good live baits to use when freshwater fishing for catfish or bass. Hook the worm three or four times through the center depending on how long it is, then leave the end free to wiggle so that it attracts fish. If you need to keep earthworms overnight, cover tightly and place in a cooler or the refrigerator.
Minnows or shiners
Hook the shiners through the top of the back, just in front of the fin so that the minnow can swim as naturally as possible. Always keep minnows or shiners in a shaded bucket (never leave them sitting out in the sun), and use a bubbler whenever possible to help keep oxygen circulating through the water.
Grasshoppers or crickets
Grasshoppers and crickets are good summer baits. Hook the grasshopper or cricket through the collar that is just behind the neck. The hook should be slipped under the collar so that the point is exposed. This will keep the insect alive and help attract fish.
Small frogs
Small frogs generally found along freshwater shorelines and are great to use for bait when targeting bass. You can hook small frogs through both lips or through one of the legs.
Crawdads
Crawdads are found under rocks near docks or the shore in freshwater lakes and ponds. Hold them along the back so you won't get pinched, then push the hook through the tail.
Is there another type of live bait that you've had good luck with when freshwater fishing? If so, comment on the Shefishes2 Facebook page or on this post and let me know.