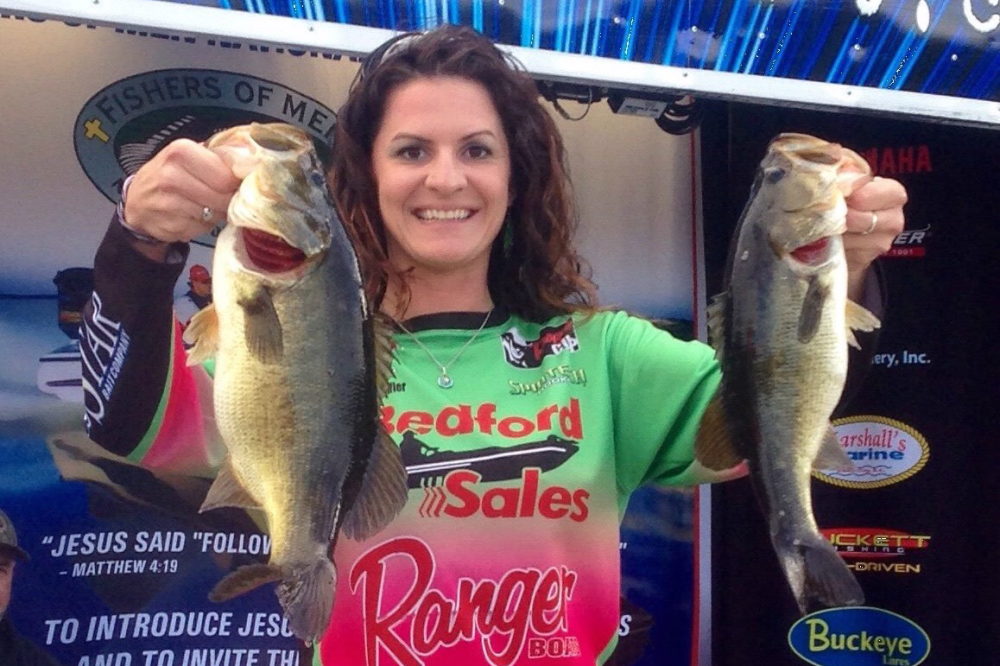 Within one hour after arriving at the 2015 Florida Outdoor Writer's Association Conference in Lake City, an area resident saw me wearing a fishing shirt and told me that I had to meet a local lady angler by the name of Katie Jackson. Fortunately, the next day I was scheduled for a half-day bass fishing charter at Bienville Plantation in nearby White Springs where she was working as a professional bass fishing guide. While I didn't get a chance to fish with Katie personally, I had the opportunity to wet a line on Thomas Lake with her husband Dean (also a professional bass guide and FLW tournament angler) and watch her in action from afar.
Needless to say, Katie guided one of her clients to a 1st place win in our FOWA bass tournament. Her ability to find big fish despite the Florida heat in late August and the bluebird skies we experienced that day was incredibly impressive. Since my natural curiosity got the best of me, I had to find out more about Katie and hear how she successfully turned her passion into her career.
Shefishes2:  How old were you when you started fishing and who got you hooked?
Katie:  I was probably around four or five years old. My dad loves fishing and would take me often.
Shefishes2:  What advice do you have for other women who are interested in learning how to fish?
Katie:  Stay patient and be confident! Don't be intimidated, worry about looking bad or failing. Fish are fish and some are going to get away.
Shefishes2:  You also have your own line of fishing jewelry, how did you come up with the idea and where can women purchase your jewelry?
Katie:  I love to get into the theme of things with accessories. I could never find anything cool for bass fishing. A few years ago I was at a tackle shop, and noticed some small lures that would make perfect earrings. After wearing them and getting lots of  compliments, I thought I should make them for others to have fun with as well. Although, sometimes it's more than that. I made a special pair for a woman that wanted to commemorate her father who died of brain cancer since he would fish with her all of the time. You can see everything I make by hand on the Fishen Vixen Facebook page or check them out in person at Rum 138 http://rum138.com/ or at Alachua Farm & Lumber.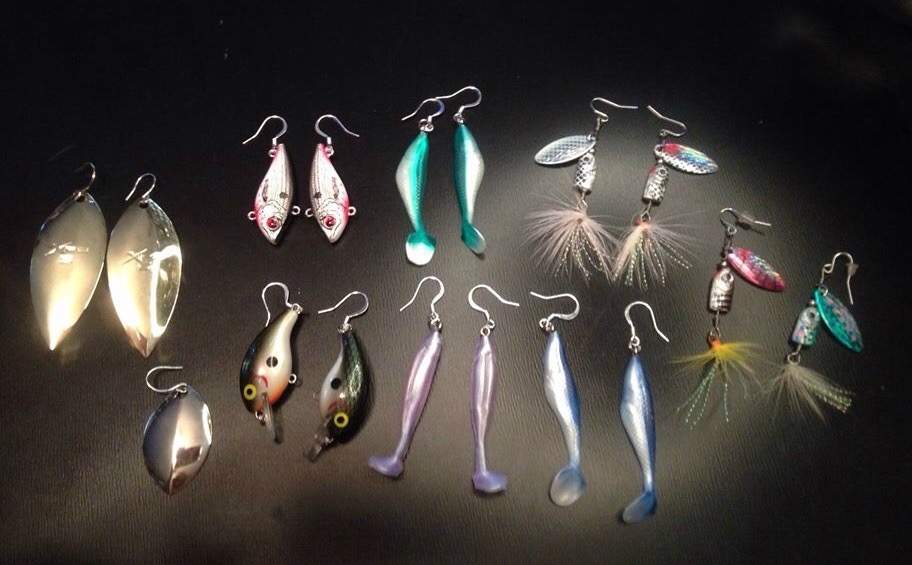 Shefishes2: You fish competitively in bass tournaments around the state of Florida. Do you feel that it has been a bit more of a challenge to be taken seriously as a female fishing a competitive tournament circuit?
Katie:  I know I've been underestimated a number of times. Especially at the bigger tournaments that are outside of Florida, but that just makes it all the more fun! It's all about doing the right thing at the right place and time. Bass don't care who you are… hopefully they think you're food!
Shefishes2:  What three pieces of tackle or gear could you absolutely never live without?
Katie:  1) Zoom U-Vibe speed worm- my go to bait. 2) Gamakatsu hooks because you can't catch a fish without a hook and these are my favorite. 3) Lowrance HDS Gen3- necessity! It can get confusing out there sometimes. I like to know where I'm going, what the water temperature is, and of course what it looks like down where the fish are living.
Shefishes2:  What species is at the top of your fishing bucket list?
Katie:  Smallmouth bass, but I'd love to catch a peacock bass as well.
Shefishes2:  What one fishing skill was the biggest challenge for you to master?
Katie:  My hook set — and it's SO important.
Shefishes2:  What is the biggest fish you've ever caught?
Katie:  Probably a 34 inch Cobia or a small shark when I was younger. As far as largemouth bass go, I'm stuck at a few 8 pounders. My goal is to break double digits next year.
Shefishes2: Do you have a freshwater fishing tip that you wouldn't mind sharing?
Katie:  When fishing with artificial lures, if you can't catch them with a moving bait, then start fishing super slow.  If you freshwater fish in Florida, learn how to flip cover.
Do you know a lady angler that would make an inspirational addition to Shefishes2.com? Let me know who she is and how to reach her by sending me a message through the Shefishes2 Facebook page or by commenting on this post.