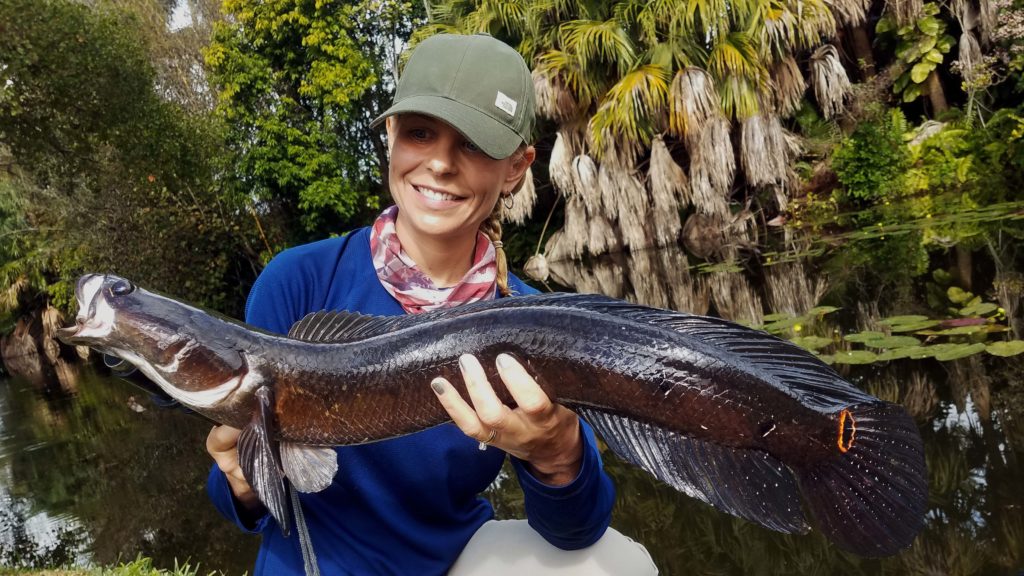 With a serpent-like body and voracious predatory instincts, the snakehead has become a source of curiosity and debate in the freshwater angling community. While the snakehead's native range is limited to Africa, Asia, Malaysia, and Indonesia; two species of snakehead now have reproducing populations in Maryland, Delaware, Virginia, and Florida as a result of illegal aquarium or live food fish market release.
How Long Have Snakeheads Been Here?
The bullseye snakehead (Channa marulius), identified by a distinctive orange spot near the base of the tail fin, was first documented in the freshwater canal systems of Margate, Coral Springs, and Pompano Beach, FL during October 2000 — South Florida's warm, humid climate providing the ideal water temperature range for the species often referred to as "Frankenfish."
The bullseye's lack of tolerance for water temperatures below 50 degrees lies in contrast to the northern snakehead (Channa argus), which can tolerate a wider range of temperatures between 32 and 85 degrees. Going back to 2002, the northern species was found to be naturally reproducing in a Crofton, Maryland pond, but it now inhabits waterways such as the Potomac and Delaware Rivers.
Why Target Snakeheads?
As with any non-native species, biologists quickly became concerned that snakeheads could threaten native freshwater fish through competition for food and habitat. In fact, the jury is still out as both the northern and bullseye snakehead population continues to expand. However, it was only a matter of time before freshwater angling aficionados came to realize that the aggressive nature of both species equals serious sporting quality.
My friend, world-class angler and trophy hunter "Crazy" Alberto Knie, is no exception. Knie seizes any opportunity he can to target either the bullseye or northern snakehead. "Try pursuing these fish and I promise you will be pleasantly surprised," Knie told me. "Both species present a true challenge for freshwater anglers because they are smart and aggressive," he added. "They are one of the toughest fighting freshwater fish, they will absolutely explode on a topwater frog or buzzbait."
How to Target Snakeheads
According to Knie, snakeheads primarily feed in low light conditions, meaning that the periods just prior to sunrise or after sunset are ideal, and a stealthy approach is mandatory. "You have to be very mindful of your shadow as you walk along the canal banks because snakeheads have good eyesight," he advises. "If you approach the shoreline too quickly, you'll miss your chance."
In addition to the right timing, gear and technique also matter. Cast parallel to the shoreline, near structure or vegetation, using medium-heavy tackle and 20 to 30-pound fluorocarbon leader.
When You Catch One
Given nearly two decades of the snakehead's existence in North America, there is still some confusion surrounding the matter of what to do with a snakehead when you catch one. To make matters simple, it is illegal to possess or transport a live snakehead. Harvest is encouraged and there is no bag limit or length limit, but it is not illegal to practice traditional catch and immediate release.
While we certainly didn't want or need non-native snakeheads in our waterways, they have now become the ultimate freshwater frenemy — so grab your soft plastic topwater frogs and get to casting!