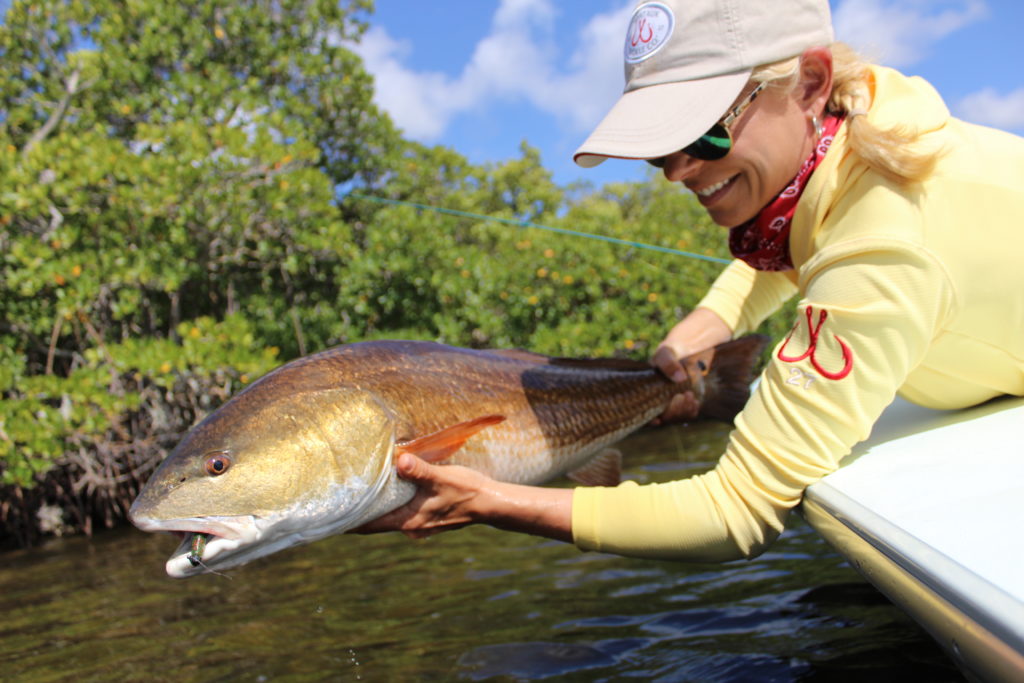 While redfish can be caught year-round in Southwest Florida, the cooler winter months offer particularly good sight fishing opportunities for this copper-colored inshore game fish due to higher levels of water clarity. I can tell you from first-hand experience that there's nothing quite like the excitement of scouting for a school, spotting the fish, and then getting the presentation right to elicit a strike.
Before you go, you'll want to make sure you have the right tackle set up and have considered the conditions. Keep an eye on the weather forecast, review a local tide chart, and plan to go on a sunny day with low wind. These tips will help increase your chances of sight fishing success when targeting winter redfish.
Sight Fishing Tackle
For slot-sized redfish, a 7-foot medium action spinning rod or eight-weight fly rod will work well. If you know you'll be fishing around oyster bars or rocky shorelines, use 25 to 30-pound fluorocarbon leader that will hold up to abrasion in these types of areas. If you're primarily fishing on the grass flats, you may want to downsize your leader to 20-pound to see if you get more action using lighter leader.
Two of the best types of presentations to consider when sight fishing for redfish in clear water conditions are natural-colored 3 to 4-inch soft plastic jerkbaits on a jig head or a soft plastic shrimp. If you plan to fly fish, crab or shrimp patterns with bead or lead-eyes tend to work well during this time of year. Keep in mind that with either an artificial or fly presentation, your goal is to cast several feet past the fish and then work your lure or fly until it is presented right in front of the feeding fish.
Best Time to Go

Sight fishing in Southwest Florida is largely dictated by the tide tables. Moving water increases crustacean and baitfish activity, which also increases redfish feeding activity. Plan to go when the tide is either incoming or outgoing and you'll have a greater chance of success. I generally start around oyster bars at the beginning of an incoming tide, and then move back toward the mangrove shorelines during the latter part.
Where to Look

The shallow-water bays and grass flats from Pine Island Sound down through the Ten Thousand Islands are prime redfish habitat. The eastern side of Pine Island Sound, for example, is about 2 to 4 feet deep with numerous areas that contain potholes, oyster bars and grass flats. During the winter months, large schools of fish in the 18 to 27-inch range can be spotted tailing with their noses down in the grass or oysters as they eagerly feed on shrimp and crabs.