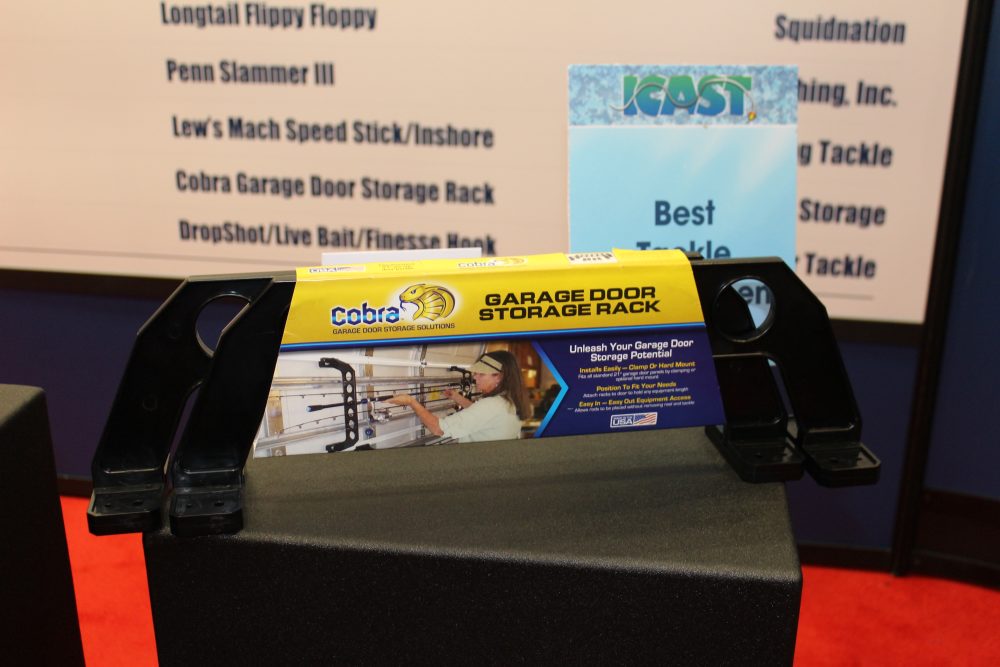 When you walk past booth after booth filled with the latest innovations in fishing gear, accessories and apparel during one the world's largest annual sportfishing trade shows, you start to develop a keen sense for those items that might be best considered as angler baits, and those products which truly hold a degree of merit by offering something ground-breaking or useful.
After carefully scouring the ICAST 2016 show floor, I selected the following five products as being particularly beneficial in the categories of tackle management, fishing rods, innovative lures, and fishing accessories.
ICAST 2016 Fishing Products
The Cobra Garage Door Storage Rack (pictured above) took the award for "Best Tackle Management" due to the creative design that allows you to maximize unused space in your garage for fishing rod storage. MSRP: $35.00
The Retractable Fly Box from Boomerang Tool Company claimed the award for the "Best Fly Fishing Accessory" for a waterproof, double-sided box that holds 170 flies. The box has a 24″ retractable cord that you can easily clip to a vest or belt. MSRP: $24.95
G Pucci & Sons Inc. P-Line Tactical Fluorocarbon fishing line reels in new advancements in terms of casting, invisibility, softness and sensitivity combined with greater strength and durability. MSRP: $19.99-29.99
The St. Croix Rods SOLE was awarded the title of "Best Fly Fishing Rod" considering the fact that this two-piece rod offers the performance of a one-piece. The design of the SOLE allows you to cast farther, with more accuracy. All nine SOLE models are 9 feet long and include an additional 28-inch tip section. MSRP: $340.00-360.00
While the WHenko by Tightlines UV Lure Company didn't win an official ICAST award, it certainly caught some attention at the show. This clever stickbait features two whiskers that offer an entirely new type of action. You can fish the WHenko like a soft plastic lizard, but get the same action on the fall as a senko. Available in 5, 6 and 7-inch baits. MSRP: $6.99-7.99
For anglers not familiar with ICAST, the trade show is one of the primary cornerstones of the sportfishing industry, helping to drive recreational fishing product sales year round. If you attended ICAST 2016, which products topped your list as being truly innovative or useful? Feel free to comment on the Shefishes2 Facebook Page or on this blog post.