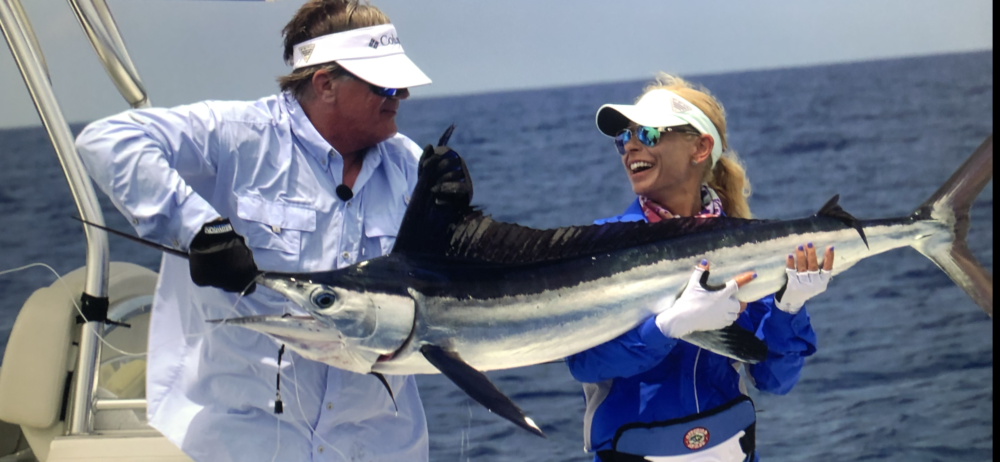 The past year blessed me with a few "oh my gosh, pinch me" fishing moments, but one particular memory of the Bahamian kind ranks near the top.
While Florida has been home for nearly 20 years, I had never experienced a Gulf Stream crossing other than on a Carnival cruise ship (doesn't count), never mind trolling the deep blue waters of the Bahamas for big game species like marlin. Yeah, that type of experience seemed like nothing more than a distant dream given my conservative lifestyle as a writer and freshwater guide.
Offshore Fishing Invite from George Poveromo
So, you can imagine my immense sense of gratitude, sprinkled with astonishment and anxiety, when I bumped into George Poveromo at the Miami Boat Show last year and he mentioned inviting this green trout catching pond hopper to film an episode of George Poveromo's World of Saltwater Fishing.
When I reflect back on the 90 days that led up to the trip, I can't even begin to describe the stream of consciousness that filtered through my head. What if we hook a grander? Will I need to wear a harness? What if a marlin pulls me in? What if I get seasick? What if we get caught out at sea in a storm (or worse, one of those offshore vortexes)? Crap, I better start lifting more at the gym!
By the time June came around, I had worked myself up into a tizzy… then I remembered a few things. First, this was going to be the experience of a LIFETIME with one of the most highly respected and knowledgeable angling professionals in the entire world. Second, the goal was to catch fish, learn more about the offshore fishing game, and have a great time while on the absolutely stunning blue waters of the Bahamas. OK, I could do that.
Is This Really Happening?
After packing my bags and leaving a few hours early to make the drive from Fort Myers over to the East Coast, I managed to turn my nervous jitters into sheer excitement. I could hardly wait for the adventure to unfold… and what an adventure it would be.
Of course, I wanted to relay every tiny detail right here in this blog post. In fact, on the very final day of filming, after a few hours of trolling atop the cobalt waves, I clearly remember concentrating my gaze on the wake behind the MARC VI while beckoning to our quarry. "C'mon marlin, if you take one of George's lures, you'll be a star, and then I'll type up a blog post or write an article to express my infinite gratitude."
The thing is… I quickly realized that words could never do the experience justice when there was an incredibly talented team of production professionals capturing every highlight (and possibly one heartbreak) on camera.
Thank You to George & His Team
Oceans of thanks to George for letting me tag along to film the Treasure Cay episode back in June. It was a complete honor and an experience that I'll never forget — even those few lines from The Floaters that I keep trying to. Thanks to his top-notch team including Rob, Robwil, Carl, and Kevin for making me feel so welcome… for letting me crash in the bean bag, not hazing me after the lightning incident, providing an endless variety of stories and highly entertaining happy hour sessions. Last, but not least, thank you to Avis Miller and the staff at Treasure Cay for making our stay enjoyable and showing us around their piece of paradise.
If you want to find out how George coached an offshore rookie to deep-dropping, jigging, trolling, and marlin-landing success; you can watch the premiere on World Fishing Network on January 1st, 2019 at 8:30 AM or on NBC Sports on January 8th, 2019 at 3 PM Eastern.
One final piece of advice… you'll never feel 100% ready when an amazing opportunity presents itself, but don't be afraid to take a chance.
NBC Sports Network air dates/times (Eastern):
January 8 (Tuesday) – 3:00 PM
April 2 (Tuesday) – 3:00 PM
June 8 (Saturday) – 9:00 AM
World Fishing Network air dates/times (Eastern):
January 1 (Tuesday) – 8:30 AM
January 2 (Wednesday) – 3:30 PM
January 3 (Thursday) – 2:00 AM & 8:00 PM
March 26 (Tuesday) – 8:30 AM
March 27 (Wednesday) – 3:30 PM
March 28 (Thursday) – 2:00 AM & 8:00 PM