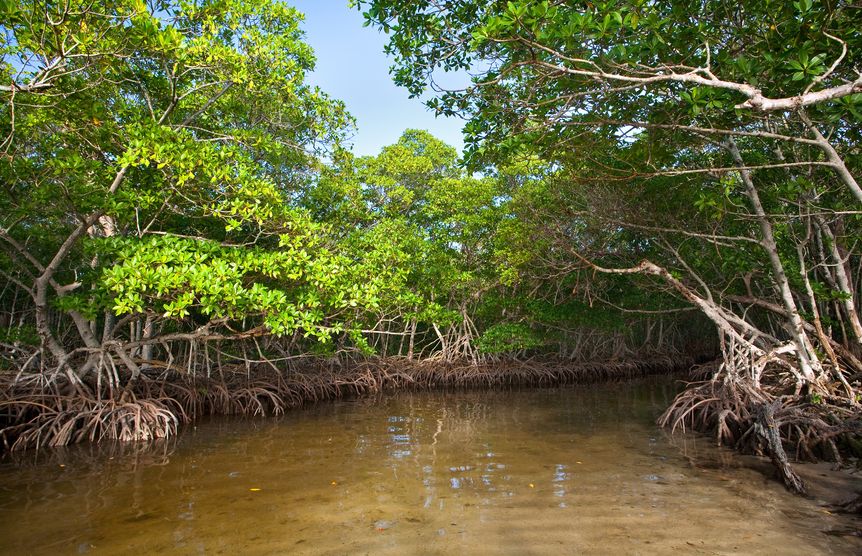 Mangrove shorelines all tend to look pretty much the same, but having knowledge of bottom depth variations and how to hone in on areas where water flows through these important tropical trees will cue anglers in on some fantastic spots to fish. If you pay close enough attention, you'll notice that some mangrove forests back directly up to land, with very little water underneath them, while others have saltwater creeks or rivers flowing through their vast root systems.
These mangrove trees provide habitat for many different types of marine life. They serve as protected nurseries for fish, crustaceans, and shellfish. Mangroves also provide food sources for a multitude of fish species such as snook, snapper, tarpon, jack, sheepshead, and redfish (red drum).
Check out these simple tips on how to "read" the mangroves and find the best spots to fish.
Look for Current or Water Flow
Generally speaking, water flowing through mangroves, or areas where the water may cut back underneath them, are more likely to hold fish. Current or water flow will carry crustaceans and baitfish with it, so larger predatory fish are often found feeding in these areas. Remember to check a tide chart to see when the water movement is likely to be optimal.
Look for Drop-Offs or Changes in Bottom Composition
Along the mangrove edges you may find areas where the depth suddenly changes or drops off from very shallow (around a foot or two) to several feet. These depressions along mangrove shorelines are excellent spots to soak your baits or throw your favorite artificial lures.
Before You Go
Do some research beforehand by studying a nautical chart, or by checking Google Earth, and then pay close attention to your depth finder. There are also several different types of custom mapping tools and mobile apps that you can use, such as Insight Genesis by Lowrance or SonarChart Live by Navionics.
Have you experienced an exceptional day of inshore fishing near the mangroves? Which species did you catch? Share photos of your saltwater adventures on the Shefishes2 Facebook page.