Whether you're new to saltwater fly fishing or you've been casting feathers for years, winter presents a special opportunity to target Spanish mackerel in South Florida's nearshore waters. Other game fish species tend to shut down when cold fronts pass through, meanwhile the feisty mackerel continues to actively feed.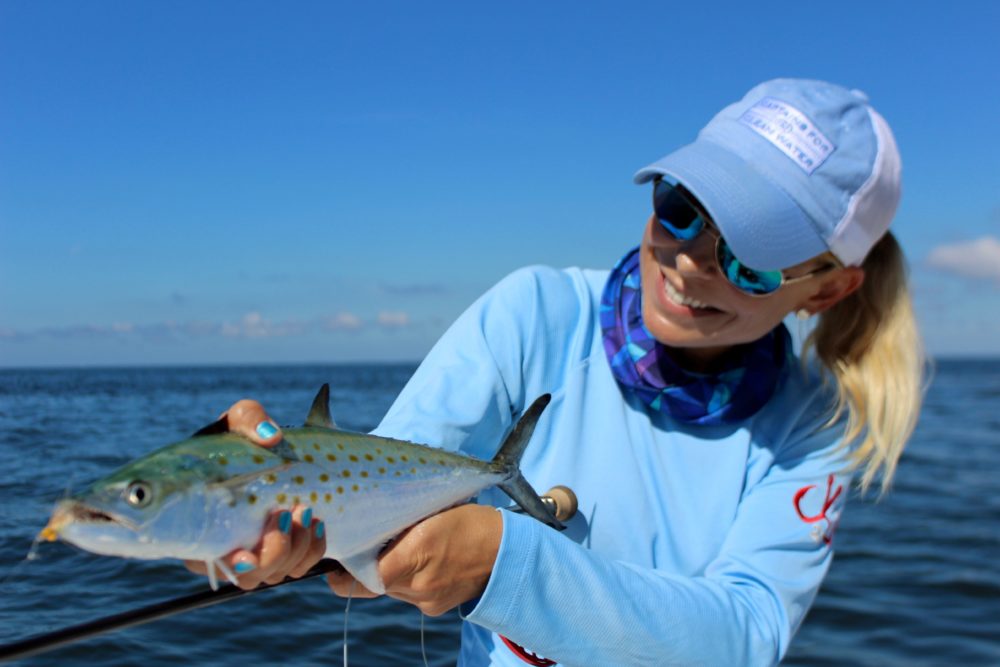 One of the benefits of pursuing Spanish mackerel is that you don't be overly concerned with distance casting. Mastering an 80-foot saltwater cast isn't necessary when targeting these small, but speedy pelagics. When you find the nearshore schools chasing schools of glass minnows at the surface, a 20-foot cast off the bow of the boat into the mayhem will work.
However, this doesn't mean that you shouldn't be well-prepared. If you've never hooked into a Spanish mackerel before, be ready. Fast, hard runs are a trademark of this migratory species.
Where to Look
When casting from a boat in nearshore waters, Spanish mackerel can be found in depths from 10 to 20 feet. The easiest way to locate schools of mackerel is to look for flocks of diving birds. When you find the birds diving at bait, chances are pretty darn good that you'll find mackerel hitting baitfish at the surface — all the commotion will be hard to miss. In Southwest Florida, for example, schools are frequently found feeding in 10 to 20 feet of water near the M.A.Y. Reef during the winter months.
Fly Gear to Use
You can use a 6 to 8-weight fly rod when planning to target Spanish mackerel. Try a 6 or 7-weight if the mackerel are snatching up smaller flies. Bring out your 8-weight if you want to cast heavier streamers, or if you think you might have a chance at a chunk over 5 pounds.
You can use a floating line in most situations, particularly if you notice the fish boiling up at the surface. However, from time to time there may be larger fish holding back a few feet beneath the surface. In this case, if you have an intermediate sinking line, it can help you find a few over the 5-pound threshold.
As far as your leader and tippet material, a 5 to 7-foot tapered leader with 30-pound test mono or fluorocarbon tippet material will work. Given that you don't need to make long casts, a 9-foot leader isn't necessary. You can use a standard 60/20/20 where the leader consists of 60% butt section, 20% mid-section and 20% tippet.
Wondering which flies to use for Spanish mackerel? Make sure you have a few Clouser Minnows, size #2 with a bit of flash. Dan Blanton's Flashtail Whistler pattern in chartreuse and white is another good fly to have handy. In fact, you can try a variety of baitfish or minnow patterns. Once you cast a fly into a school of feeding fish, you might be surprised how quickly you become a fan of a winter "mack attack."
Now that you know where find Spanish mackerel and the saltwater fly gear to use, how about picking up a few new freshwater fly fishing tips too? Cooler winter temperatures in Florida also means plenty of good opportunities to go fly fishing for bass.