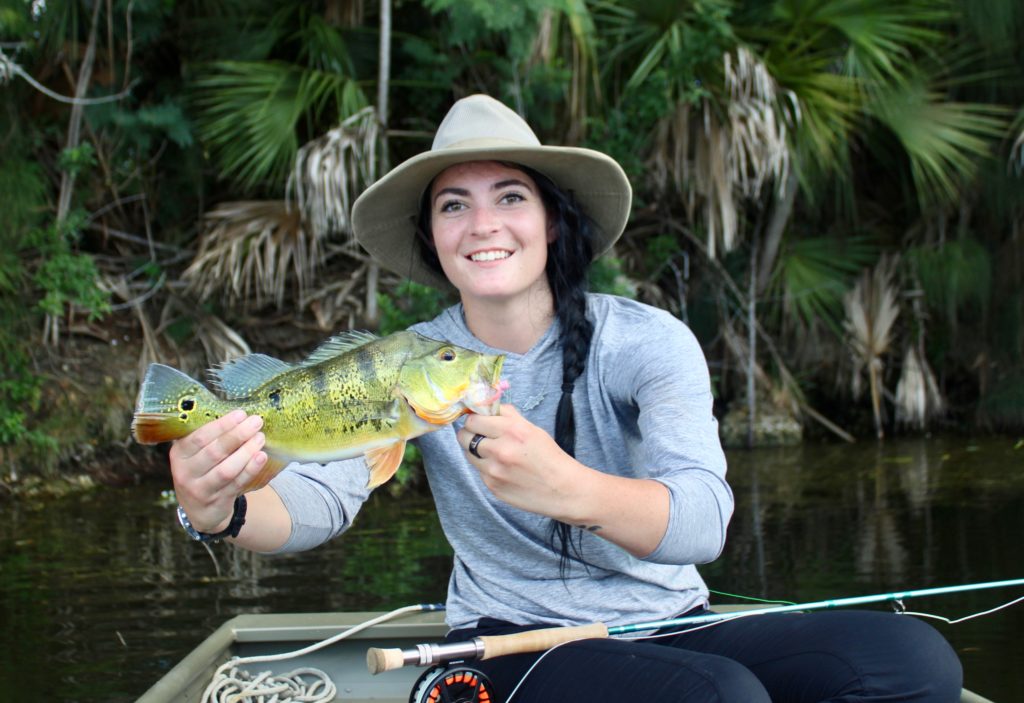 With Southwest Florida summer temperatures holding in the 90's, the butterfly peacock bass in Southwest Florida's canal systems are still fired up on topwater poppers, chartreuse streamers, and baitfish-imitating crankbaits. In other words, both topwater and subsurface lures are continuing to work well for this species throughout the heat of the day. The bite on fly has been fantastic with solid numbers coming to the boat on each trip. Most fish are in the 18-20 inch range. Focus your efforts on submerged rock piles, culverts, drain pipes, and rip-rap.
For freshwater fly and light tackle anglers targeting largemouth bass, your best chances will be within the two hours following daybreak. Look for vegetation or structure (think bridges, lily pads, culverts) where fish will be preparing to hide from the hot summer sun. For the fly crowd, dark poppers (sizes 4 to 6) are working well early in low light conditions, but try switching up to streamers as the day and heat progresses. For the light tackle crew, swimbaits or spinnerbaits are working early, transitioning to 5 or 6-inch senkos slowly crawled or twitched along the bottom later in the day.
Kids also have a fantastic opportunity to take advantage of the bluegill bite right now. Bluegill are still spawning in many lakes and canals, which means that there's a good chance of catching a few in the 10-inch or 1 lb range. Spin anglers can use ultralight Beetlespins or Al's Original Goldfish 3/16 ounce in gold or nickel and work the lures along vegetation edges or in areas near sandy bottom.