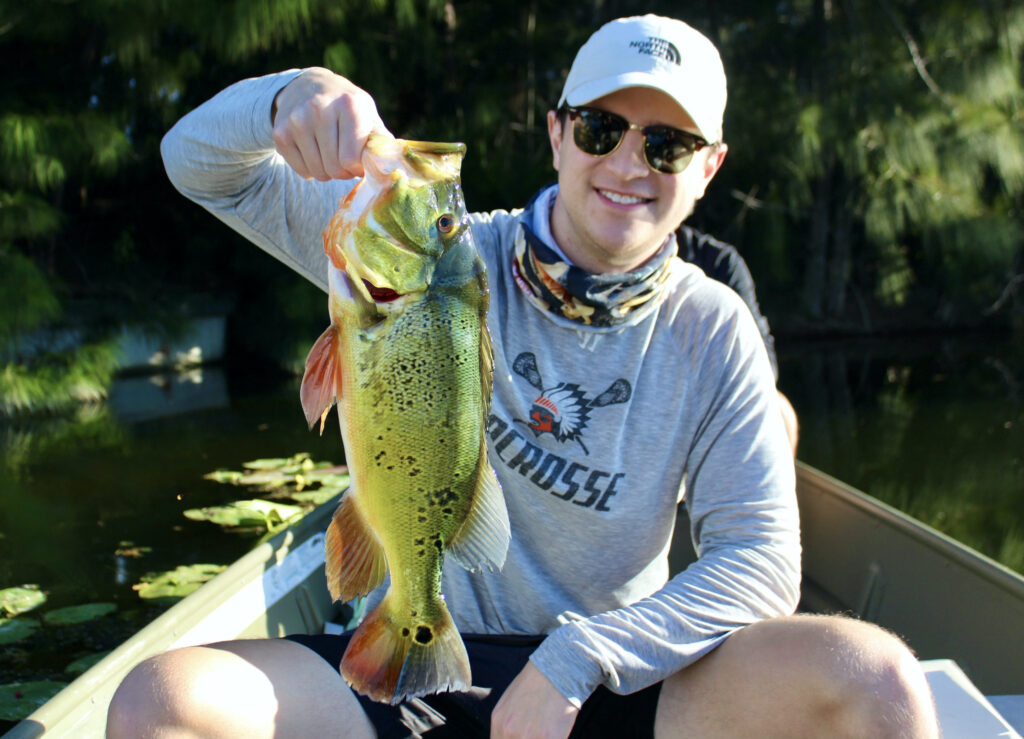 December and early January fishing trips were very productive given the warmer than average temperatures for this time of year in Southwest Florida. The peacock bass bite generally tapers off during the winter months here on the west coast; however, our freshwater canal water temperatures held steady in the 75 degree range through the first week of January. This meant happy clients and consistent action.
There wasn't any rush to get out in the mornings because the bite didn't typically turn on until the sun warmed things up around 10 or 11 AM. Focusing on sections of our canal systems near culvert pipes with warm water outflows and near drop-offs adjacent to rocky shorelines proved to be the key. Fly clients used chartreuse Clouser deep minnows and those using spinning gear experienced success with soft plastic jerkbaits.
Following this month's series of cold fronts and low temperatures in the 50's, we should start to see a slight warm up in February. Largemouth bass will be a prime target on my trips from now through March, particularly in the days leading up to the full moon on February 16th. Keep your focus on sandy or gravel bottom in depths of 5 feet or less.
For clients who want more experience casting artificials, soft plastic creature baits rigged weedless in June bug or watermelon colors are among my top selections for this time of year. Remember to fish your presentations slow and make sure your hooks are sharp. Bass may nudge or lightly pick up baits to move them away from bedding areas, so sharp hooks and good hooksets are crucial. I Texas rig my soft plastic creature baits using Daiichi Bleeding Bait Red Offset Worm Hooks, and then select appropriate bullet weights based on the water depth and current.
One important reminder for this time of year, largemouth bass are much more vulnerable during the spawn and should be handled with care. Quickly remove hooks and release fish in the same area where they were caught to help protect our freshwater fisheries for the future.