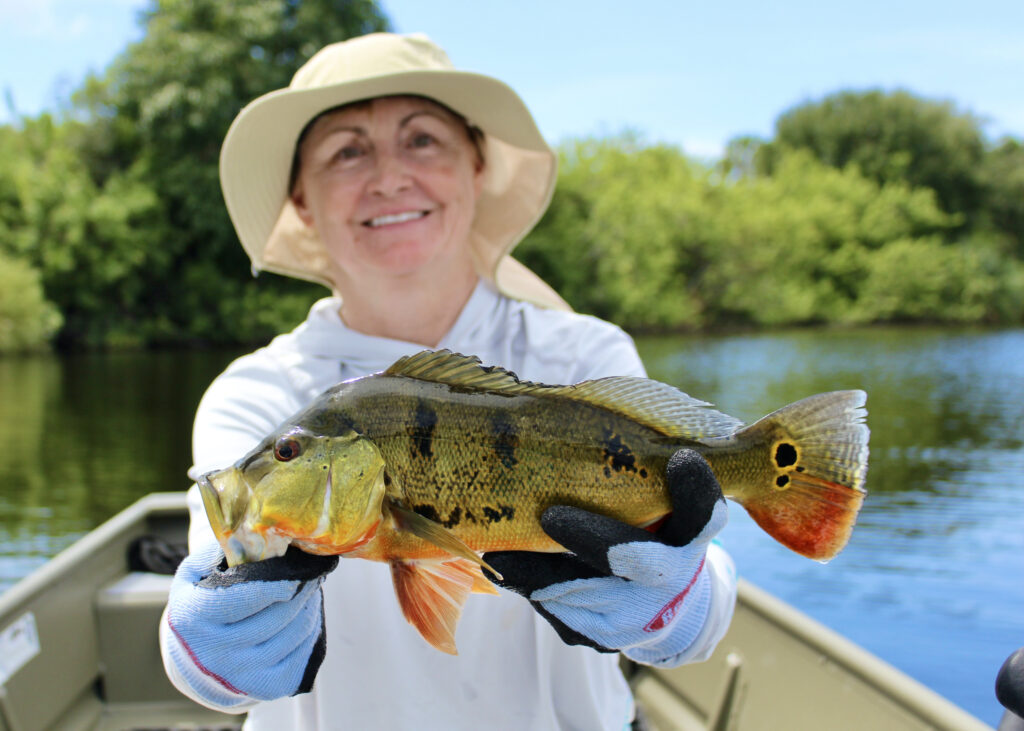 October in Southwest Florida started out with slightly cooler, drier weather. The dip in humidity levels and water temperatures in the mid to low 80's fired up the bite in our inland lakes and canal systems, particularly around the new moon on the 6th of the month.
The slightly cooler temperatures brought on a good topwater largemouth action from sunrise until about mid-morning. For the spinning gear crowd, topwater walk-the-dog lures or poppers (such as the Rebel Pop-R) in silver and black have been productive during the first two hours of my trips. Fly anglers have been doing well with size 4 popping bugs in black and olive colors.
I recommend using monofilament leader material when fishing topwater lures given the fact that mono is more buoyant than fluorocarbon. Mono will allow your topwater baits to run true on the surface. Plus, you'll have the benefit of some stretch in case you have the tendency to jerk or react prematurely.
When the topwater bite for largemouth slows down around mid-morning, switch your presentations to Texas-rigged creature baits or underspin jigs (like Blakemore's Swim-N-Runner) fished around the outside edges of reeds or bulrush. As water temperatures trend downward over the next two months, bass will start feeding more heavily in pre-spawn mode, which will mean better opportunities for bigger fish over 5 lbs.
The peacock bass bite has been exceptional on both topwater and subsurface flies and lures over the past few weeks. This trend should continue until our evening air temperatures drop down into the 60's, bringing an associated drop in water temperatures. Since Southwest Florida doesn't have the benefit of a limestone aquifer to keep the canals and inland lakes at a more stable temperature, such as the Biscayne Aquifer does in Miami-Dade and Broward counties, our peacock bass in Southwest Florida don't stay as active once cooler weather arrives.
As we head into November, pay close attention to the days around the new and full moons with stable weather patterns. Those are going to be your best opportunities for big fish. Once we get our first cold front of the season, you'll have to change up your tactics by downsizing and slowing down your presentations until the fish adjust to the transition.