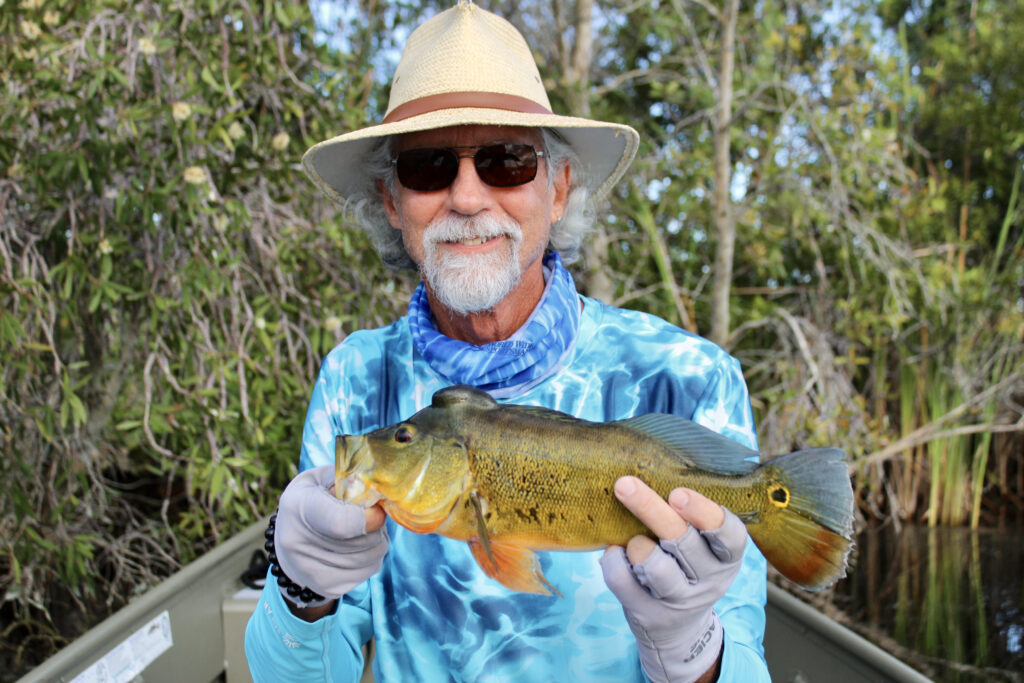 With summer temperatures up in the 90's and increased rainfall over the past few weeks, it's feeling a lot like the Amazon here in Southwest Florida. This means good opportunities for those clients who want to scratch a peacock bass off of their bucket list. You'll want to be sure your casting accuracy is up to par though since the focus has been on working topwater lures or flies around rocky shorelines, riprap, culverts, and concrete bridge pilings. Like other ambush-predators, peacock bass absolutely love hanging around structure.
While the largemouth bass bite slows down as the sun climbs higher in the sky on these mid-summer days, the peacocks get even more fired up to feed. Avoid missed strikes by making sure you work your topwater lure or fly at a steady cadence and don't break your rhythm if you see a wake coming up behind it. More importantly, resist the urge to pull the lure or fly away from the fish by setting the hook prematurely.
If your first cast is rejected, make another and try working your lure or fly a little faster to get the peacock's predatory instincts to kick in.
Once you do get a take, my biggest piece of advice is to make extra sure you keep steady pressure on that fish. Slack is not your friend. The moment you give a peacock bass slack, he or she will shoot up out of the water and give you a furious lure or fly tossing headshake. When you get the fish up near the boat, be anticipating his or her every move and be ready to dip the rod tip down into the water if the fish takes a deep dive in a last-ditch attempt to escape.
Some of my favorite topwater lures for peacock bass are the Rapala X-Rap Pop Topwater Lure in Yellow Perch (similar to peacock bass colors), the Rebel Pop-R in Foxy Momma, and the Rapala Ultra Lite Pop in Lime Frog. When fishing with fly clients, I primarily use size 4 foam poppers in orange or fire tiger colors.
Get out and experience the fun of peacock bass on topwater this month, you'll be glad you did!