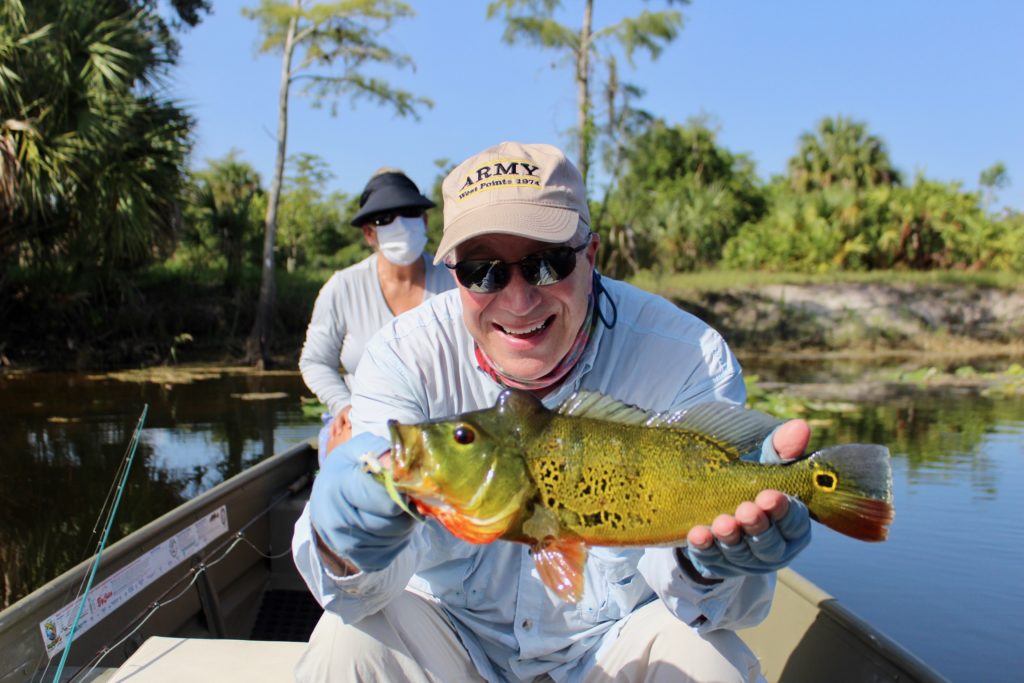 Peacock bass have been active in canal systems where there's plenty of rip rap or rocky limestone ledges along the shorelines. Focus your fishing efforts on likely ambush points near canal bends and concrete bridge pilings. We've been targeting them on fly using brightly-colored topwater poppers or firetiger baitfish patterns in chartreuse, orange, and green.
For largemouth bass in shallow lakes and canal systems, work topwater lures around the outside edges of reeds or bulrushes early, and then switch over to black/blue soft plastic stick baits or senkos. If you are fishing deep quarry lakes, now can also be a good time to target bass that are schooling in out in open water. Look for sloping points or changes in bottom composition that will often hold suspending fish that are just waiting for baitfish (or a well-placed lure) to move through. It's a total rush when you see a dozen or more bass coming up right behind the one fish you're bringing in.
Fly anglers can also have a blast targeting these summer schooling bass by watching the surface on calm mornings. "Run and gun" when you see schooling fish busting baits at the surface and cast a white popper straight into the mayhem. You can also try Dan Blanton's Whistler pattern in white with weighted bead chain eyes, fishing with an intermediate line to get down to the bigger fish that tend to hold lower in the water column.