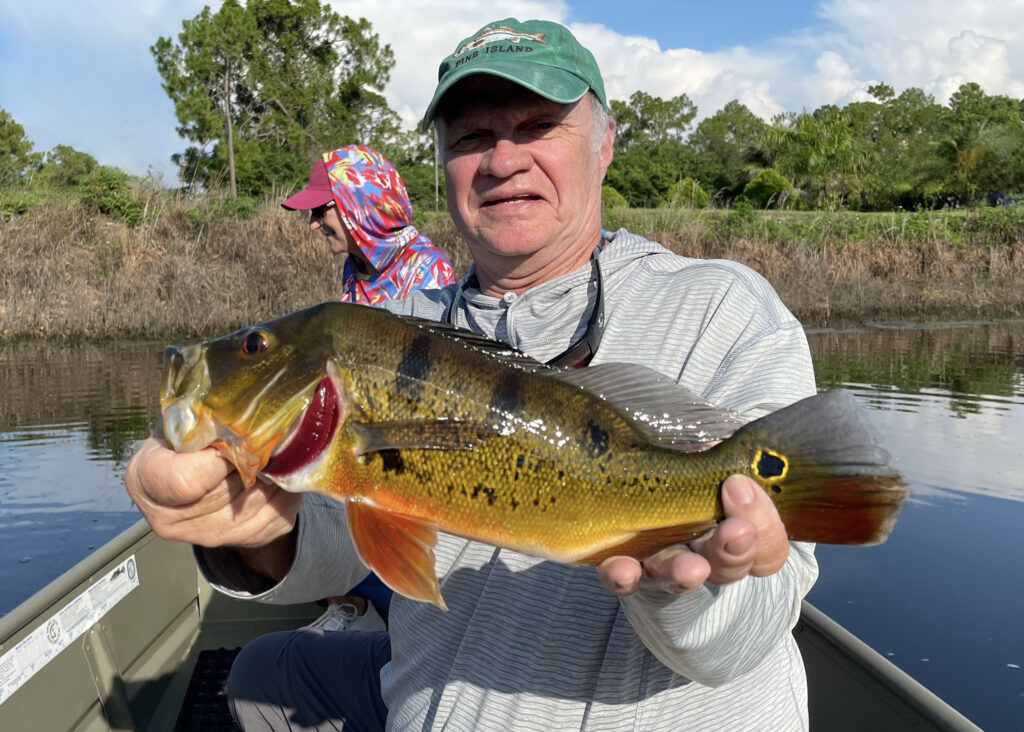 Lake and canal water temperatures are still up in the mid to high 80's, contributing to the fact that your best opportunities for catching are either first thing in the morning or around sunset. We've had a few rare dry afternoons and calm winds recently. Without those afternoon rains to cool the waters down slightly and a breeze to boost dissolved oxygen levels a bit, getting fish to hit topwater lures or flies can be challenging. Downsize your presentations and switch over to subsurface baits or flies in these situations.
The peacock bass bite around the new moon on the 6th of September was productive in our Southwest Florida canal systems with an average of 5 to 10 fish in the 14 to 15-inch range coming to the boat on 4-hour trips. For the spinning crowd, shallow-diving crankbaits or soft plastic jerkbaits are working well. If you prefer chasing peacocks on fly, stock a few Muddler Minnow and Craft Fur Minnow patterns in bright orange and chartreuse shades in your box. Focus your efforts on areas near rip rap, culverts, and bridge pilings.
Largemouth bass are hitting junebug or watermelon-colored speed worms inside of grass lines or near isolated cover. Remember to work your soft plastics slow and stay connected to your line so you don't miss subtle hits given the warm water temperatures. For the fly fishing crowd, find clean water, tie on a Woolly Bugger or Clouser Minnow, and use a slower stripping cadence. The key is getting our early because the bite has been slowing way down after 10 AM.
October will start to really pick up with guided trips as seasonal residents come back to Southwest Florida after spending summer up North, so get on the books with your favorite guides or captains early.